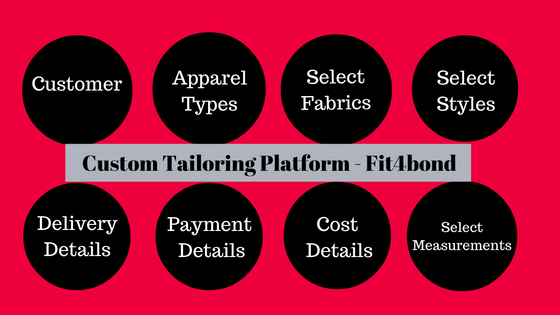 Try 360 Degree Product View With Online Clothing Design Tool !!
Custom Tailoring Platform is the latest trend in the Ecommerce Business industry.Custom clothing means "the amazing product made Especially for someone".
In custom clothing business, there are many customization in select options for the Customer that allows them to select fabric, colour, pattern , measurement , style of their particular clothes, give their all details, and get their amazing custom tailored dress delivered at home. There are many custom tailoring websites like , Black Lapel & IndoChino that are very famous and successful.
This platforms bring customers who sit in your website to choose their fabric, design it as per their exact style and get the stitched piece with happy.
So if you are like platform & launch similar website at low price with top features than you must read this article :
How Online Business with Custom Clothing Designing Tool Could Make Hit in 2017 ?
The results are awesome. A customer goes to a Custom apparel designing websites because they likes the feeling, they wants to be able to know, 'Does it make me look good? What do you think?'.
We are really speaking about this amazing transformation.
"Easy to Impress Your users through Custom Clothing Software "
It really based on your circumstances.This amazing tool can be modified, its interface and features awesome to your website and according to your Customer requirements.
360 Degree Rotational 3D Custom Clothing Design Tool:
Current generation Custom tailors moved their business from offline into online.Because customers are mostly like online shopping experience. When its come to clothing industry, people like to order their made to measure custom suit or their custom shirt through online.
Benefits of 360 Degree Rotational Tool:
Customers can see the every single cut corner,strings collar, back, sleeves, bottom, Front & Back side in clean view.
Customers can assume how the fabric has connected on their selected fabric and you can see the custom platform tool works.
Amazing 3D Tool allows customer to view their cloths in zoom option.
360 degree tool provides awesome online 3D product view & high definition.
Customers Have an enjoyable experience with Custom Tailoring designing tool.
Submit Your Details and Get 30% Offer !
We Welcome You All !! Enjoy the Holidays With your Custom tailoring Platform.
Get Trust and Credibility from Your Tailoring Customers !!
Tags :
Custom tailoring platform, Custom tailoring store, Custom clothing, Websites for Custom tailoring, Online store for custom clothing, Custom tailoring portals
Fast-Track Your Tailoring Business in Online With High-End Custmozied Design Tool
Subscribe with us for more fashionable e-commerce tailoring business ideas!!
Fit4bond - The Best software,script for custom & bespoke tailoring business.
Fit4bond is a custom clothes designing website software that includes all the impressive features of advancd shirt and suit design tool.
Fit4bond enables entrepreneurs and tailoring stores owners to start their custom cloth designing store online, which offers an easy to use tool to design shirt and suit. The tool guides the user step by step for designing their custom clothing by their own.