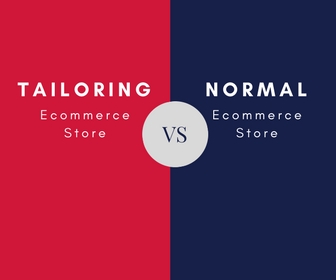 Will tailoring ecommerce store hit, if works like normal ecommerce ?
The right way to sell the product / service is depends on what you're going to sell in online. But how, exactly do sales in online differ across industries?
What does tailoring ecommerce store do differently than ecommerce store? Is it the same process for both ?
Exactly "NO"...
Tailoring business operations more than normal ecommerce business operations. Even normal appointment booking website is not enought to engage your audience in online. This is must always to know & wanted to know findout what customer needs.
Currently, audience always believed in the importance of customization in tailoring requirements, letting your customers build to suit their own approach.
Hope, you are seeking the options to build your own store with bespoke, custom clothes customization ?
Online customer conversions may differ from industry to industry. Increase your tailoring business conversion in online with the following addons installation on website:
Unlimited Inventory listing module
Listing the products after AutoCAD designer works finished because we believe your product worth speaks to customers more than content.
3D product showcase
Showcasing your inventory products with realistic 3D or 360 degree rotational view equal to product video.
3D fitting room
You can feel that how the product suits to you either to be fit or not in 3D rotational view.
Mix and Match
You can check with mixing product to match your tailoring requirements
Try a free demo to check customer conversion factors.
Tags :
online tailoring e-commerce store software, online custom clothes customization software, 3D realistic product showcase, 360 degree rotational view of an apparel, Mix and match technologies,online tailoring platform, online tailoring software, custom clothing store script, custom tailoring store script, Best business software for tailoring store
Fast-Track Your Tailoring Business in Online With High-End Custmozied Design Tool
Subscribe with us for more fashionable e-commerce tailoring business ideas!!
Fit4bond - The Best software,script for custom & bespoke tailoring business.
Fit4bond is a custom clothes designing website software that includes all the impressive features of advancd shirt and suit design tool.
Fit4bond enables entrepreneurs and tailoring stores owners to start their custom cloth designing store online, which offers an easy to use tool to design shirt and suit. The tool guides the user step by step for designing their custom clothing by their own.