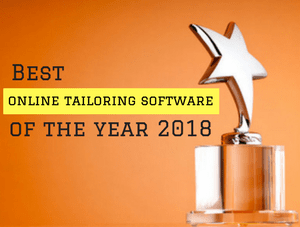 Most Awarded online tailoring business software of the year 2018
Many business people and tailors have been searching an ultimate tailoring software to perform various online tailoring business operations in the online platform.
When tailors think of starting their online tailoring business it comes with a lot of risk and overhead. But over the internet, there's slightly less risk and at the same time tailors can create their branding identity and they can easily increase their visibility. There's a wide array of tailoring business opportunities, if tailors can start their online tailoring business with an awarded tailoring software.
In the present scenario, the online tailoring software performs a various task in a brilliant way, especially similar to how tailors are performing their task for a client's apparel.
How online tailoring software works for the modern tailors?
1. Simply makes the tailoring operations easier :
Online tailoring software makes tailors operations easier. Online tailoring software is programmed in such a way where customers can enter into the tailoring business website to design their own apparels with complete customization option.
2. Tailors can spend less time on administrative procedures :
In real time, tailors usually spend more time managing their client's appointments. And tailors should spend their time in doing their paperwork and designing the apparels to satisfy the client's requirement.
To overcome this time delaying problems, tailors can integrate an online tailoring software with special add-ons like 3D cloth designing feature. With this 3D cloth designing software, customers can even design their apparels according to their desire.
Online tailoring software has inbuilt payment gateway system & online body measurement module and so on...
"Customers can design and order their outfit without stepping out from their place."
3. Freedom to customize your tailoring business website :
Tailors can customize their online tailoring business website according to the season and trend. Tailors can list out numerous type of fabric, style of cuff, collar, button etc…
4. Tailors can improve their business sale in terms of quality and quantity :
Owning an online tailoring software in your tailoring business website is highly beneficial. With the help of online tailoring software, tailors can increase their tailoring business sale in a short span of time both in terms of quality and quantity.
5. Tailors can avoid human errors :
"Online tailoring software eliminates the predictable human errors."
This is because online tailoring software has online body measurement solution. The measurement of the customers will be recorded for the future use. Tailors can avoid the human errors easily if they integrate online tailoring software in their tailoring business website.
About Fit4bond :
Fit4bond offers the best online tailoring software for tailors to upgrade their online tailoring business to the next level. Fit4bond – Online tailoring software is the best partners for tailors with vast features. Fit4bond is said to be an awarded software because it completely understands the needs of the tailor.
Tags :
online tailoring business, online tailoring software for tailors, online tailoring software for custom tailors, online tailoring business for bespoke tailors, most awarded online tailoring software, online tailoring business software for tailors, online tailroing platform, custom tailoring business, custom tailoring software, Best online tailoring software, Best online tailoring software of the year 2018.
Fast-Track Your Tailoring Business in Online With High-End Custmozied Design Tool
Subscribe with us for more fashionable e-commerce tailoring business ideas!!
Fit4bond - The Best software,script for custom & bespoke tailoring business.
Fit4bond is a custom clothes designing website software that includes all the impressive features of advancd shirt and suit design tool.
Fit4bond enables entrepreneurs and tailoring stores owners to start their custom cloth designing store online, which offers an easy to use tool to design shirt and suit. The tool guides the user step by step for designing their custom clothing by their own.