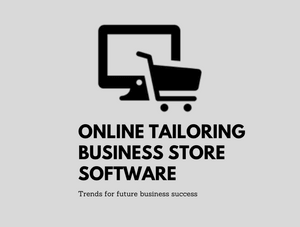 New e-commerce trends to improve your online tailoring business store
2018 is around to start and some radical changes are going to witness in e-commerce business platform. Mobile users are increasing every day, online cloth customization is picking up its own place, and competition is higher than ever. In this blog, let us discuss the e-commerce trends in online tailoring business store that is going to be sureshot hit in 2018 next year.
Multi-device shopping facility for your online tailoring business store website
Currently, mobile users support the e-commerce revenue around 40% and it's expected to grow up to 70% in the next few years! Even more surprising is how common multi-device shopping has become. For example, people will begin a purchase of apparel on one device (smartphone) and may close the order in another device (tablet). This happens almost 85% of the time!
So the owner of the store should pay more attention towards the online tailoring business store website. This means your online tailoring business store website should look flawlessly not only on desktops but also on mobile and tablets too.
Choose common UI Patterns with userfriendly navigation in your online tailoring business store website
We all know about the famous quote said by Steve Jobs
Design isn't how something looks. It's how it works
There is a big difference between website design and user experience in your online tailoring business website. Though your online tailoring business website looks simple and makes sure that your tailoring business website supports for a userfriendly navigation. EndUser experience plays a major in business success.
Provide personalized shopping experience for your end user
The next big trend is going to be personalization. Every customer prefers customized apparels. So provide a platform for your online tailoring business store where customers can customize their apparels according to their own creativity. It starts with the selection of fabric. Customers can customize their apparels completely in the online tailoring store without any restriction.
Showcasing of an apparel to the end user
According to the current trend, augmented reality (AR) and virtual reality (VR) is used to seek the attention of the end user. So the store owner should integrate these high-end application to satisfy the requirements of the end user. Augmented reality can double your online business profit.
Product videos can improve your business sale
90% of customers say that watching a video regarding the product helps them to make an easier product purchasing decision. Moreover, 71% of customers may think that videos explain products better than plain text. The statistics made many business people overwhelmingly that 73% of the customers purchase the product after watching the product video. So the owner of the store should make the best product video about the services and work of the online tailoring business store.
Apply these trendy e-commerce features to your online tailoring business website
Many store owners may feel difficult to apply the above features in their own tailoring business website. Make your work simple by searching an online tailoring software with high-end features. Fit4bond is the leading provider of building an online tailoring business store with current e-commerce trend features.
Tags :
online tailoring business store software, online tailoring software, online tailoring platform, custom tailoring store script, custom tailoring store software, e-commerce trends in online tailoring business store, online cloths customization software, augmented reality for tailoring business, wordpress plugin for online tailoring business
Fast-Track Your Tailoring Business in Online With High-End Custmozied Design Tool
Subscribe with us for more fashionable e-commerce tailoring business ideas!!
Fit4bond - The Best software,script for custom & bespoke tailoring business.
Fit4bond is a custom clothes designing website software that includes all the impressive features of advancd shirt and suit design tool.
Fit4bond enables entrepreneurs and tailoring stores owners to start their custom cloth designing store online, which offers an easy to use tool to design shirt and suit. The tool guides the user step by step for designing their custom clothing by their own.