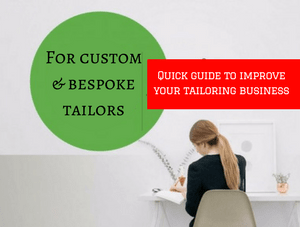 Easy and quick guide to develop your online tailoring business!
Many tailors want to start and develop their tailoring business in online? If tailors think it's going to be easy, think again. success in online tailoring business is not much easy. Achieving success in our tailoring business is a journey that requires a lot of time, effort and hard work, and perhaps unsurprisingly, many business people may end up in failing. But if your online tailoring business survives, then the rewards for your online tailoring business success is well worth.
Tailors would face many obstacles to reach the road to success in online tailoring industry.
Fit4bond is the no1 tailoring software for tailors to develop their online tailoring business in a short period of time. Now let us discuss about the features offered by fit4bond for tailors to develop their online tailoring business in an easy and quick manner.
Quick Responders
Fit4bond team understand the time pressures of tailors in developing their online tailoring business. Fit4bond provides various high-end applications to grab the attention of the customer. Fit4bond team can efficiently integrate various modules like 3d cloth designing module, 360 degree rotational view of an apparel, clothes customization module..etc for tailors to reach their goals.
Customizable Solutions
In todays market many softwares are available. But all softwares does not offer customizable solution. Finding a tailoring software which fits tailor business needs completely is a rare one. Todays fashion will be an outdated one in the future days. Tailors should again update their online tailoring business website with the current trends by spending a little money.
To overcome this problem fit4bond provides complete freedom for the tailors to customize their online tailoring business website according to their own desire. Tailors will get backend access for customizing their tailoring business website without the help of developer.
Brainstorm ideas
Every business reaches its success point by implementing some innovative ideas. Thus fit4bond team experts has made many tailors dreams come true by upgrading their online tailoring business. Fit4bond team experts also provides many ideas to make your online tailoring business website look unique.
Tags :
online tailoring business, develop your online tailoring business, online tailoring software, online tailoring platform, online tailoring business success, quick guide for tailors to develop your online tailoring business, 3d cloth designing software, clothes customization software,custom tailoring business, Bespoke tailoring business,custom clothing store script
Fast-Track Your Tailoring Business in Online With High-End Custmozied Design Tool
Subscribe with us for more fashionable e-commerce tailoring business ideas!!
Fit4bond - The Best software,script for custom & bespoke tailoring business.
Fit4bond is a custom clothes designing website software that includes all the impressive features of advancd shirt and suit design tool.
Fit4bond enables entrepreneurs and tailoring stores owners to start their custom cloth designing store online, which offers an easy to use tool to design shirt and suit. The tool guides the user step by step for designing their custom clothing by their own.