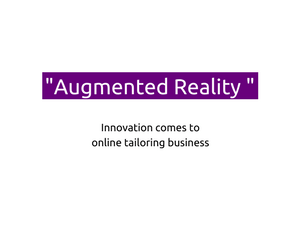 Augmented Reality - A Great Evolution in Tailoring Business Store
Numerous ways are there where you can engage customers in ecommerce business world. Though, one good news for tailoring business can look forward to truly groundbreaking experiences in online, both as store owners and as customers.
Now, augmented reality & its work for your online store - that experience is whatever you make it. Damn sure ! Augmented Reality (AR) technological pattern will rock in ecommerce world especially tailoring industry.
Tailoring & Clothing are two industries currently looking Augmented Reality for ecommerce. With an AR exceptional solutions might be obvious or unexpected results on digital world, because AR and its works really inspire you to move your business forward.
I don't want you to bore with content of augmented reality (AR) evolution. If you want to get the explanation of how AR works for your business, then take a look of below infographic :
Let's Get Started With Free Consultation
Tags :
AR in tailoring business store, tailoring business store with AR, tailoring business software with AR, online tailoring business with AR, Augmented Reality in tailoring business, AR ecommerce business solutions
Fast-Track Your Tailoring Business in Online With High-End Custmozied Design Tool
Subscribe with us for more fashionable e-commerce tailoring business ideas!!
Fit4bond - The Best software,script for custom & bespoke tailoring business.
Fit4bond is a custom clothes designing website software that includes all the impressive features of advancd shirt and suit design tool.
Fit4bond enables entrepreneurs and tailoring stores owners to start their custom cloth designing store online, which offers an easy to use tool to design shirt and suit. The tool guides the user step by step for designing their custom clothing by their own.