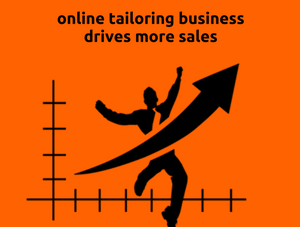 Actionable steps for creating a successful online tailoring business !
Online tailoring business is considered to be a high-class business. This is because when our country faced global financial crisis many sectors were badly affected, but tailoring & clothing industry did not face any problems. In recent years online tailoring business has witnessed a lot of growth and made a change in customers shopping experience.
Tailoring industry is considered to be the multi-billion dollar industry around the world. However, online tailoring industry is considered to be quite tricky. Because attaining success in online tailoring business is not so easy. Tailors can succeed in their online tailoring business if they use new opportunities and try to recapitalize some amount in developing their online tailoring business store.
Now let us discuss the actionable steps to make your online tailoring business even better
Increase your tailoring business scalability :
It's the first step to knowing about your customer's needs, what customers look for, where they're coming from and how far customers are getting through the conversion funnel.
Create a stand-alone branding :
Building a brand strongly can bring more sales to your online tailoring business. Build your stand-alone branding in co-ordination with the values of your online tailoring business. A smart branding strategy can help tailors to achieve their goals in a short period of time.
Innovation is a key :
The traditional method of tailoring business will not work for current generations. Reinforce some new ideas in your online tailoring business website to make it look unique from other competitors.
Always Be Prepared :
Tailors should not hesitate to upgrade their online tailoring business website with high-end applications. Tailors should take the necessary steps immediately to move upgrade online tailoring business according to the current generation expectations.
In order to survive in the rapidly changing tailoring industry, tailors need to be equipped to adopt constantly newer methods. Tailors who adopt such responsibilities will become an inspiring entrepreneur to build a better world.
About Fit4bond :
Fit4bond is the leading service provider for creating an online tailoring business store with high-end applications. Fit4bond provides a complete tailoring business solutions in a single package. Fit4bond also offers a ready to marketable software to kick-start your online tailoring business instantly. Fit4bond also supports for WooCommerce platform.
Get free business consultation
Tags :
Online tailoring business , Online tailoring software, Online tailoring script, online tailoring store software, custom tailoring software, custom tailoring platform, custom tailoring script,custom clothing store script, custom tailoring store script, WooCommerce Plugin for Online Tailoring business, best tailoring design software, top tailoring services for online tailoring business,complete tailoring business solutions.
Fast-Track Your Tailoring Business in Online With High-End Custmozied Design Tool
Subscribe with us for more fashionable e-commerce tailoring business ideas!!
Fit4bond - The Best software,script for custom & bespoke tailoring business.
Fit4bond is a custom clothes designing website software that includes all the impressive features of advancd shirt and suit design tool.
Fit4bond enables entrepreneurs and tailoring stores owners to start their custom cloth designing store online, which offers an easy to use tool to design shirt and suit. The tool guides the user step by step for designing their custom clothing by their own.