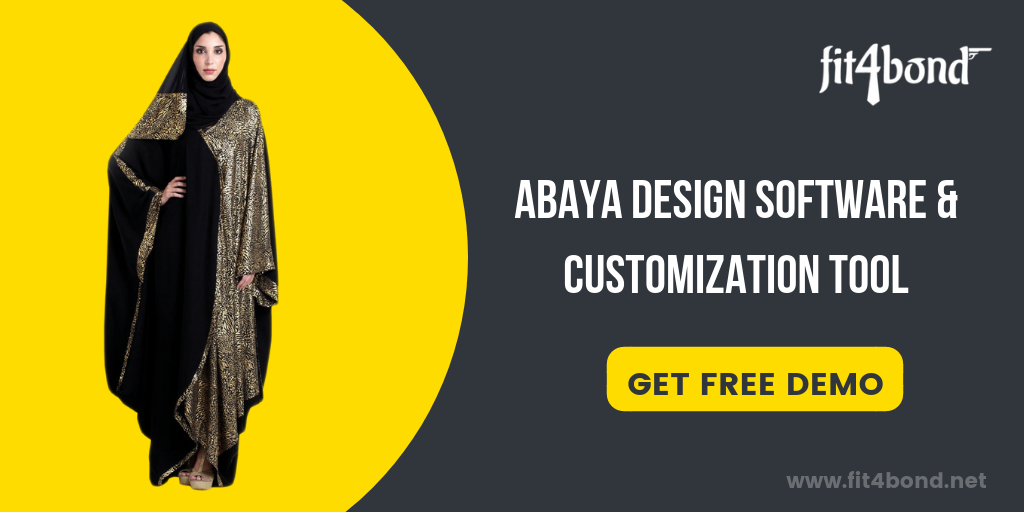 Abaya Design Software & Customization Tool
Abaya is a cloak (i.e) loose garment usually in Black colour is a part of Muslim women's culture. It is more popular in Middle East Countries (UAE, Saudi Arabia, Turkey, Iraq, Egypt, Qatar, Syria and other countries).
The background of an Abaya is to prevent unwanted attention towards their beauty and charms.
"Abaya has become a part of the Muslim heritage"
In recent times, Women's started begun to wear abayas in varieties of colours that includes grey, blue, green and other dark shades.
Most commonly fabrics used for abaya includes chiffon, crepe, silk, satin and georgette.
Previously, abayas were looked at a old-fashioned piece of clothing but now abaya has become a fashion statement. They started to wear for every occasions. Why because, numerous designers influences in the population.
As mentioned above, abhaya has become a fashion. Reason, abayas are now available in many designs and styles like:
* Coat style
* Butterfly style
* Waterfall style
* Kaftans style
* The two-tone style
* The laced style
* The front-open style.
All kind of abaya styles are available in the market.
But, in the current technology people started customizing their abayas on their own fabric style, colour combination and other sequin-works according to their needs with the help of online customizing tailoring store.
"Why tailors started their online abaya customizing store"?
In the middle east countries, the demands are getting high for abhaya collections.
Even though collections are available in physical store. People will not consider only designs but also colour matches, lace works etc.
Whereas in online, it provides wide range of styles and designs to satisfy people requirements. By starting this online abaya customizing store, tailors are getting high revenue so it takes their online tailoring business to the next level.
So, do you want to start your online abaya customizing store?
Then you should need the right abaya customizing software tool.
What is abaya customizing software tool?
The abaya software tool adds styles and designs.
So that people can,
Choose their own fabric cloth
Select their design style
Match their colours.
Online measurement | Scanning technology
By integrating 3D showcase they can view their finished products & more.
By adding these hot plug-ins features to your abaya customizing store will give high growth to your tailoring business.
So, Tailors may ask,
How to get this kind of customizing software tool?
Most of the online stores provides this customizing software but we don't know how it's worthy? So before you choose just analysed all kind of tailoring based business features available or not and ask them for free demonstration or talk to their experts and clarify your all kind of doubts regarding your tailoring based business queries.
About Fit4bond:
Fit4bond is the award winning & leading custom tailoring software provider in India. We provides complete solution for your custom tailoring business depends on your needs.
Specially our Abaya customizing software that change technology growth of custom tailors. Customer can design their Abaya and accessories by themselves instead of visiting tailors.
Our Highlight Solution:
* Our abaya customizing software tools with complete customization features have attract many customers towards us and it is a main thing that it would tempt even more clients towards us.
* We build fully customized and bespoke Abaya designer software tool solution as per tailor business needs.
* We provide complete tailoring online store front integrated with Abaya designer software tool.
* Designer tool built on Javascript/HTML5 that runs on all devices and platforms
* Pre-loaded styles, fabrics.
* Complete user manual and training videos.
Our Abaya Desinger Software Tool Features:
* Mobile Responsive Layout
* Localize In Multiple Languages
* Different Type of Styles
* Huge Collection of Fabric
* Different Style Options of Each Style
* Collar Style
* Sleeves Style
* Pocket Style
* Plackets Style
* Buckle Style
* Body Measurement
* Order & More...
Set yourself apart and boost your business with FIT4BOND tailoring product designer software tools.
Get Free Abaya Designer Software Tool Demo
Tags :
Shirt Design Software Tool,Suit Design Software Tool,Pant Design Software Tool,Abaya customization Software Tool, Jacket Design Software,Thobe Design Software Tool,Men Kurta Design Software Tool,Hoodies Design Software,Online Tailoring Platform,online tailoring script,3d suit design tool,e-tailoring software
Fast-Track Your Tailoring Business in Online With High-End Custmozied Design Tool
Subscribe with us for more fashionable e-commerce tailoring business ideas!!
Fit4bond - The Best software,script for custom & bespoke tailoring business.
Fit4bond is a custom clothes designing website software that includes all the impressive features of advancd shirt and suit design tool.
Fit4bond enables entrepreneurs and tailoring stores owners to start their custom cloth designing store online, which offers an easy to use tool to design shirt and suit. The tool guides the user step by step for designing their custom clothing by their own.